Description
Women's Designer Soft Pink Formal Satin Ribbon Special Occasion Wedding Cloche Pillbox Cocktail Hat Wedding Fascinator Bridal Headpiece. This Couture Pink Satin Ribbon Church Hat Is Embellished With A Pink Satin Ribbon Sculptured Shaped Adorned With Pink Satin Slightly Ruffled Fabric Encrusted With Two Rows Of Acrylic Rhinestones. Placed Along The Bottom Of This Sculptured Shape Is A Handmade Satin Large Bow Accented With Hot Pink Delicate Feathers. Acrylic Diamond Colored Rhinestones Encircles The Crown Of This Elegant Hat. This Formal 1920's Flapper Art Deco Styled Hat Wedding Headpiece Can Be Worn In Different Positions.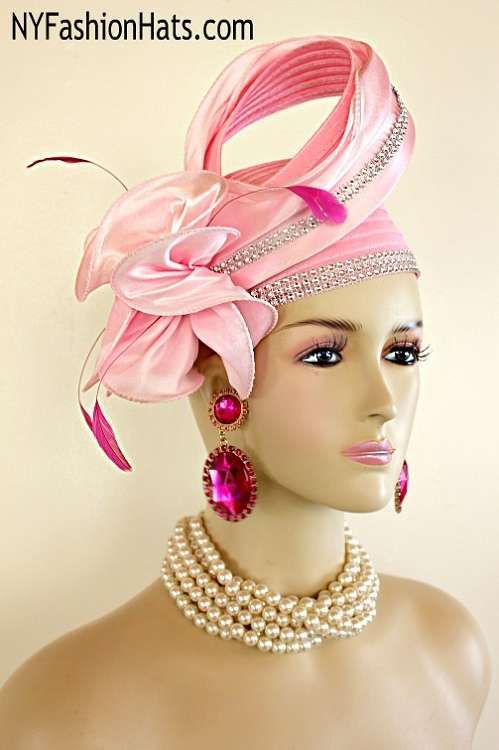 This ladies bespoke couture formal designer wedding fascinator hat is appropriate to wear for horse races, The Kentucky Derby, The Dubai World Cup, The Royal Ascot, The Melbourne Cup, Belmont Stakes, The Preakness Stakes horse racing, Church, weddings, and special occasion. This lovely Spring and Summer fascinator is also suited for mother of the bride or a bride. This Unique Hat Will Make A Fashion Statement. This Special Occasion Hat Is Custom Made And Designed By NY Fashion Hats Millinery, http://www.nyfashionhats.com
This Headpiece Is Suited For Winter Spring Summer And Fall. This Designer Custom Made Hat Is A Show Stopper.
Measurements: 22.5″ Standard Crown, Fits Most Women. Easy To Wear. Condition: New Custom Made Haute Couture Headpiece Wedding Hat With A Sculptured Shaped Rhinestones Feathers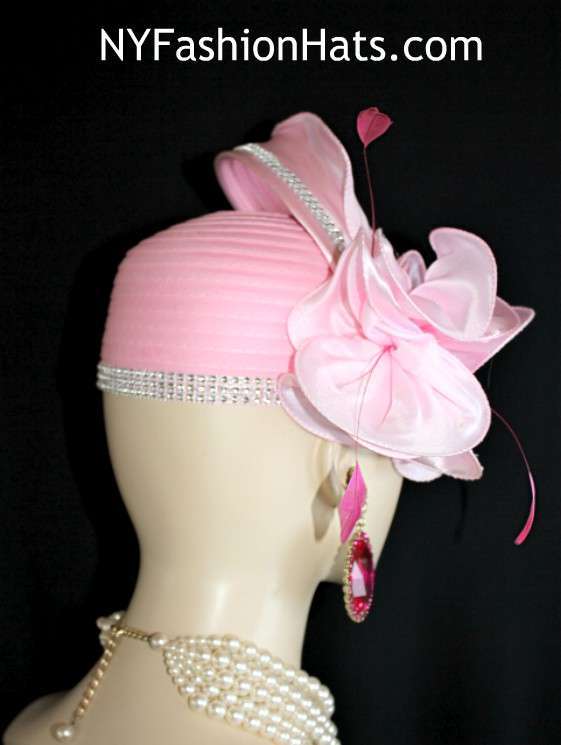 NY Fashion Hats Couture Millinery Specializes In Designer Hats For Women, Hats For Weddings, Cocktail Hats, Haute Couture Hats For Women, High Fashion Hats, Hats For Brides, Bridal Headpieces, Kentucky Derby Hats, Preakness Stakes Hats, Belmont Stakes Hats, Royal Ascot Hats, Hats For Horse Races, World-Class Thoroughbred Horse Racing Hats, Custom Harness Racing Hats For The Racetrack, Melbourne Cup Hats, Del Mar Race Track, Santa Anita Park, Dubai World Cup, Virginia Gold Cup, Saratoga NY Racetrack, Hats For Casino Stage And Entertainment Shows, Hats For Formal Affairs.  Garden Tea Party Hats,  Mother Of The Bride Or Groom Hats, Church Hats, Easter Sunday Hats, And Hats For Dress-Up Events.
All Sales Are Final